A Blog for Comprehensive Treatment
Posted: Oct 8, 2020 in
Woodcreek Dental Care has the ability to offer several treatment modalities all in one facility.
This Patient presented herself at Woodcreek Dental Care for a new patient exam. She was a 61-year-old woman who was extremely nervous about having any procedure involving dentistry and even presenting herself in our dental office. She had a history of traumatic experiences. She was dismissed from one office, a periodontal office. She was told, "they could not deal with her issues". She stated that she has a history of difficulty freezing her teeth,( local anesthetic) and overtime. many procedures where a high level of pain was endured. this had created severe anxiety. to the point where it was impossible to perform any dental treatment. as a result, she did not see a dentist for 10 years. She also mentioned that she has developed a high gag reflex when any dental procedure is attempted.
She agreed to allow Dr. Hartley to visually examine her mouth. However, Dr. Hartley could not perform a complete intraoral exam that day. No probing or radiographs could be successfully attempted. We sympathized with her situation. We discussed possible solutions.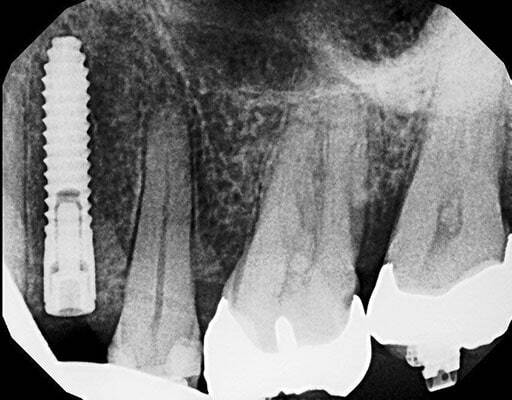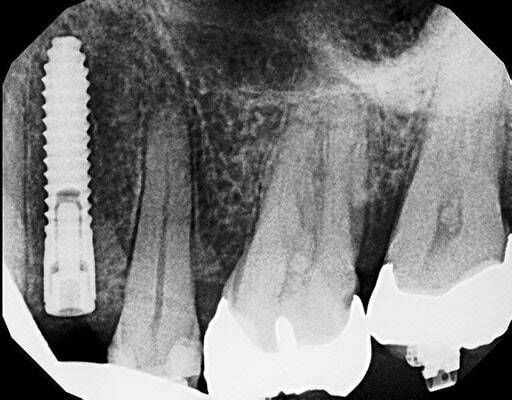 She had found our office via the internet. She was keenly interested in being sedated for her treatment. We agreed that getting more information including radiographs and a full examination of her teeth, gums (periodontal health), and oral cavity will be done under an IV sedation would be the best solution. After gathering all the required information, we would sit down and discuss her treatment options. We were able to take a pantograph radiograph, as it is extraoral,( nothing was put inside her mouth). From that, we decided to remove her wisdom teeth, as they had a hopeless prognosis and was causing her pain.


The following appt, the patient underwent an iv sedation and three wisdom teeth; 18 28, and 38 were removed. A complete examination including a periodontal exam was completed. The patient had agreed to have whatever "teeth cleaning" was possible during this appointment and that was performed.
The patient was diagnosed with moderate periodontal disease ( gum infection) and areas of tooth decay. She would require extensive scaling/Root planning (teeth cleaning) with Local anaesthetic.(freezing). The decayed teeth needed repair. She underwent this treatment on the next iv sedation appointment. During that appointment, we undertook more record taking. We took impressions of her teeth and photographs.


The patient was missing some teeth both in the upper and lower arch. She was currently wearing a partial denture replacing tooth 13. ( upper right cuspid). She had mal-aligned upper teeth.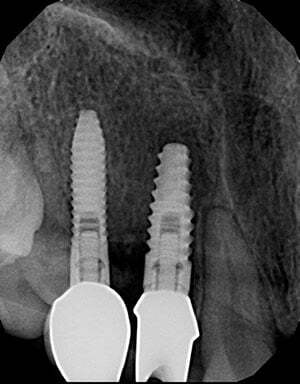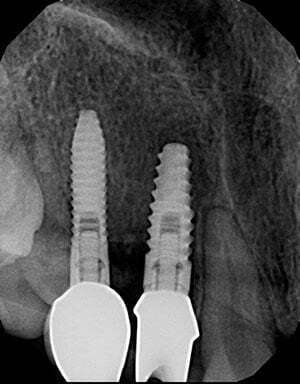 The patient had become quite interested in having a "beautiful smile". She still had high anxiety over dental procedures, but had become comfortable with having treatment at Woodcreek and that having treatment under iv sedation had changed her perspective on the ability of, not only returning her mouth to better health but the possibilities of having more complex dentistry. Upon her reviewing the models of her teeth, she expressed and desire to have her teeth straightened and implants placed for missing teeth, and crowns on teeth requiring them. this had been a life long dream of hers.


This was all possible. Over a period of time, she had orthodontic treatment ( to straighten malaligned teeth and correct her overbite), 3 implants placed in the upper arch, teeth bleached and crowns/ veneers placed. Though she still has anxiety about treatment, and any extensive work needing to be done, is done under sedation, this patient now enters our office with a bright smile on her face. Treatment is still underway. She is still missing lower molar teeth, which in time and working with the patient's budget, will be replaced with implants. being able to help a person go on a journey and receive the care and treatment they deserve, is one of the greatest rewards I and the Woodcreek team find most rewarding.